If you want to sell your house as-is in Chicago there are a few things you should consider.
For one you need to make sure to hire someone that has sold homes that are in need of work to buyers that understand that you, the homeowner, will not make any repairs to the house and that they have to take the house the way it is.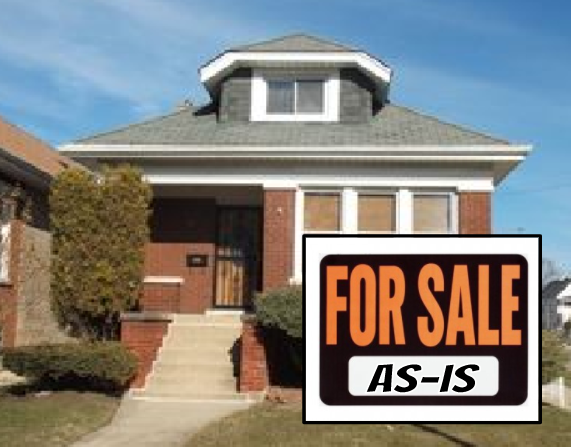 Not every real estate Broker knows how to sell a house as-is in Chicago and market it to the right type of buyer. You also have to try and avoid the WE BUY HOUSES, We Buy For Cash companies that you see on TV commercials or that are cold calling you with a cash offer…these companies will offer you a quick close for cash but for a crazy low offer amount. They will then take the house and sell it on the MLS with a real estate Broker because now it is illegal for someone to sell multiple properties a year without being licensed in Illinois. These wholesalers lock you in at a low price and then sell for much more with little to no work being done on the house.
These companies will try to scare you into thinking that only a cash buyer will take your house and for a very low amount…Before you fall for this please, do yourself a favor and call me to take a look your house first. 773-273-9155 I am an as-is homes sales specialist selling properties to buyers that will take houses in any condition and they'll pay a fair market price for your Chicago house.

Find Out What Your House Can Sell For Below


The key to selling your house as-is in Chicago for a fair market price is in the marketing. Please watch the videos below where I show you how I put together a presentation to sell your house as-is. Through this exact marketing I get in contact with a lot of Investors that are fixing and flipping properties and new home builders too. With inventory being the lowest it has been in years, now is the best time to sell a house in Chicago as-is that might have issues like City of Chicago violations or even a house that is totally outdated but everything actually works and needs just a few things fixed to be a move-in ready house. Homes that need to be cleared out completely and even homes with no kitchen cabinets or working toilets.
Many homeowners who thought they needed to sell their house for cash and at a discount SO the Investor buyer would take it as-is no questions asked are realizing that you don't need to sell for such a low price. I'm not saying that you are going to get the same amount of money for your Chicago house as the neighbor that had a great move in ready house, all I'm saying is that yes, you will take a hit if your house is in bad condition but not nearly as bad a hit like if you were to take one of the We Buy Houses companies type offer.
Not only will they offer you something way lower, they will convince you that you have no other choice! That's the sad part. They'll tell you their offer is all cash and that you won't pay a real estate commission, you won't need to make any repairs that the buyers will ask you to do, and that they'll pay all your closing costs and how that then justifies why their low offer is a better option for you. Less headache blah blah blah…
In reality the closing costs, lawyer and title fees, Chicago transfer taxes are about 3% and the commission for listing with a real estate Broker would cost you about 6%. Now on a $300,000 house that's $27,000 that it would cost you to sell with a Broker and you still wouldn't need to make any repairs if you can't or don't want to. What I can guarantee you is the wholesale company will offer you no more that 70% to 80% of value for your house. That's costing you 20-30%!
For that same $300,000 house that's $60,000 to $90,000 meaning they will only offer you $210,000 to $240,000 for the same house you can sell with a real estate Broker that specializes in as-is sales for $300,000 and walk away with $273,000 instead.
Proof is in the pudding…call me today at 773-273-9155 and I'll show you a few of the bigger companies and the prices they are selling the same types of homes that they got under contract for cheap yet they have the house listed on the MLS now at a higher price and they are paying a real estate commission too. The only difference is they already accounted for paying a commission and deducted that from the offer they made to the original owner.
The new wholesale law in Illinois does help stop some Homeowners from getting ripped off by the thousands of little guys that do this to get into real estate investing but it also allowed big companies to really take over the wholesaler market and in my opinion, it legally allows them to rip off homeowners. Again call me and I'll show you what I'm talking about. 773-273-9155
Thank you for reading this post this far. I want to tell you a little about me. My name is Goran Utvic I'm a licensed real estate Broker born and raised here in Chicago and I do specialize in selling properties as-is. I've been licensed in Illinois since 2002. My background is in construction, my whole family is in construction and I got into it too at an early age. I used my knowledge in construction to further educate myself in Construction Management and help my clients find and remodel their homes.
I too invest in real estate rental properties as well as flip houses but being that I am licensed in Illinois I must abide by Illinois real estate law and avoid unethical behavior like buying a house for way below market and doing little to nothing to it and selling it for a huge profit. Whereas a "wholesaler" does not have to follow any laws other than prove that he has the cash to cover his offer amount to you and then use a real estate Broker to sell the house he got for a real good price only to turnaround and sell it for much much more. To me that is unethical whether you're licensed or not and shouldn't be allowed to happen.
Please watch the videos below and if anything in this post struck a cord with you please call or text me at 773-273-9155 I'd be happy to talk and or meet with you to discuss selling your house.

Find Out What Your House Can Sell For Below



Please give this video a "Like" below
Goran Utvic, My Internet Marketing Strategies and Negotiating Expertise = Best Price For You When Buying or Selling a Home! HomeSmart Connect Real Estate, Call Now (773) 273-9155 Licensed in:IL HomeSmart Connect Real Estate 7240 W Devon Ave Chicago, IL 60631 p: 773-273-9155